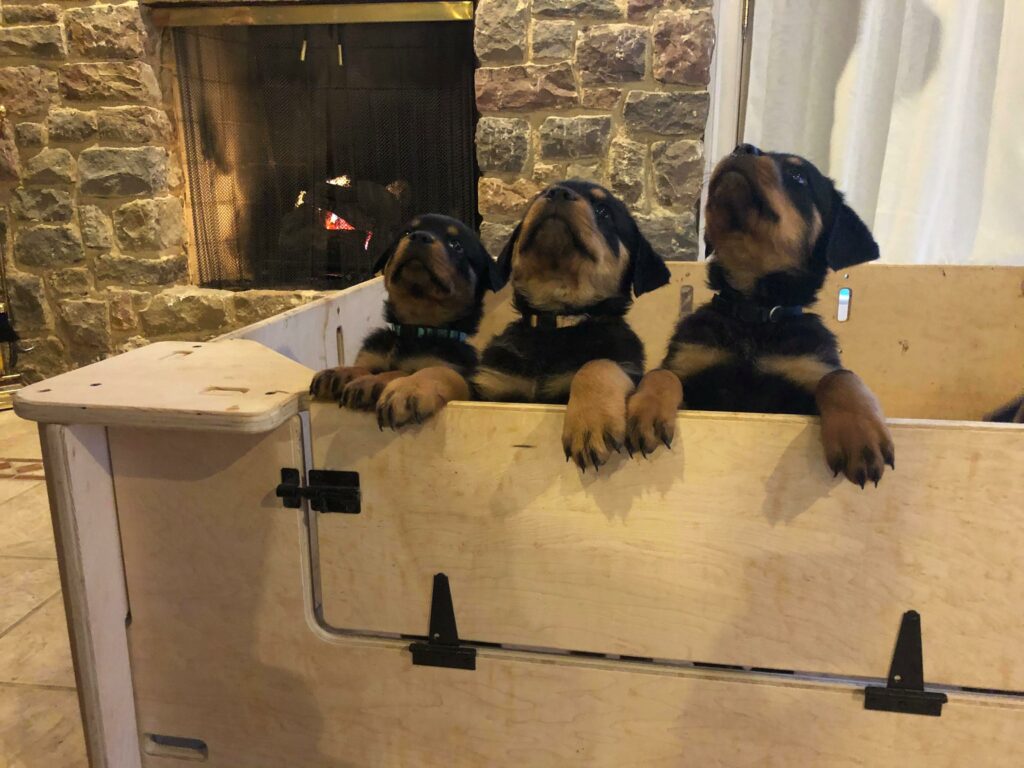 Loyal, Loving, Confident Rottweiler Puppies
Von Valor Cross Rottweilers does not currently have any litters available.  Check back with us or email us for upcoming breedings.  Thank you!
Our puppies are between $3300 and $3500 depending on pairing. Please note we have done our research and invested in top-quality lines to assure a great health foundation with dogs that are within the standards and guidelines of the true Rottweiler.
von valor cross rottweilers guarantee
We ensure that the Rottweiler puppy you purchase will pass an OFA hip accreditation at two years of age. If your pup creates hip Dysplasia within both year duration, it will certainly be changed with a pup of equal value at the time of buy from the next readily available litter. This is not a cashback assurance; it is a substitute assurance. The substitute Rottweiler will be shipped at the expense of the buyer as well as the dysplastic dog will come back to my kennel at the purchaser's expenditure unless other plans are mutually agreed upon. If the buyer chooses to maintain the pup then all warranties are null and void unless various other setups are equally set. Evidence of the Dysplasia is required prior to a substitute will certainly be made. This can be by documents from the OFA or X-rays as well as a statement from a qualified veterinarian. Von Valor Cross Rottweiler books the right to have my vet analyze as well as validate the x-rays before a substitute is made. We highly suggest that you have an initial x-ray done on your puppy concerning six months old to ensure at an early stage that the pet's hips are good.
We guarantee that your young puppy will be delivered healthy, with all inoculations approximately day. Their temperament is not ensured, the factor being, we cannot manage what happens to a pet dog after it leaves my kennel.
Von Valor Cross Rottweiler puppies range from $3300 to $3500 per pup. As soon as you make a decision to purchase a Rottweiler puppy and send a non-refundable deposit of $500.00 (minimum) you will certainly be put on the listing in the order that I get the down payments. The deposit is non-refundable, so make certain that you want the pup.
Shipping is available on all of our Rottweiler puppies if needed.
Our Rottweiler puppies for sale can be shipped to the following states: Alabama, AL; Alaska, AK; Arizona, AZ; Arkansas, AR; California , CA; Colorado, CO; Connecticut, CT; Delaware, DE; Florida, FL; Georgia, GA; Hawaii, HI; Idaho, ID; Illinois, IL; Indiana, IN; Iowa, IA; Kansas, KS; Kentucky, KY; Louisiana, LA; Maine, ME; Maryland, MD; Massachusetts, MA; Michigan, MI; Minnesota, MN; Mississippi, MS; Missouri, MO; Montana, MT; Nebraska, NE; Nevada, NV; New Hampshire, NH; New Jersey, NJ; New Mexico, NM; New York, NY; North Carolina, NC; North Dakota, ND; Ohio, OH; Oklahoma, OK; Oregon, OR; Pennsylvania, PA; Rhode Island, RI; South Carolina, SC; South Dakota, SD; Tennessee, TN; Texas, TX; Utah, UT; Vermont, VT; Virginia , VA; Washington, WA; West Virginia, WV; Wisconsin, WI; Wyoming, WY
If Rottweilers are what you are looking for we can help you! We offer Rottweiler Puppies For Sale as either an IMPORT Rottweiler Puppy or one that we have bred. We have Rottweiler Stud service to approved females of merit. If you are looking for a Rottweiler Youth for sale or a Rottweiler Adult for sale please email us direct!